Use our special event lighting – and turn ordinary into extraordinary!!
Let us transform your "same old" event into an extravagant affair with special effects, uplighting and wash lighting to completely transform your event. You'll be amazed at the difference one of our special lighting packages will make. They really set the mood and can transform a plain party into an event that will impress your guests. You don't have to rent the most expensive hall, but we can help transform your event to look like you did!
DANCE FLOOR LIGHTING
BASIC DANCE FLOOR LIGHTING – FREE when booking any DJ service


INTELLIGENT LIGHTING – contact us for details and cost
Want the night club atmosphere? Ultra cool intelligent moving head lights that take your dance floor over the top!
ACCENT UPLIGHTING
BASIC UPLIGHTING PACKAGES – start at $350
Add some color enhancement to your small to mid size venue


PREMIER UPLIGHTING PACKAGES – start at $600
Total transformation with wash lighting. Custom color matching, changing colors, special patterns and effects, and monogram spotlights! Make it AWESOME with light!


CUSTOM UPLIGHTING PACKAGE
For those looking to go "over the top." Call for special event and venue consultation.
STRING LIGHTS
Custom String Light Package - contact us for details and cost
Add some globe-style string lights to completely transform your event and give it a beautiful, classic look and feel. String lighting can help make the ambiance one of both romance and elegance. Perfect for use at both the ceremony and reception, these beautiful lights add the perfect glow to events indoors or out.
SPECIAL EFFECTS
DANCING ON THE CLOUDS- contact us for details and cost
Low lying fog effect puts you "in the clouds" to make that first dance magical!
MONOGRAM SPOTLIGHT - contact us for details and cost
Add some style and personality. Can be projected on floor, wall, or ceiling.
---
We use high quality color-mixing LED lights. "So what," you ask?
Why is that important? It allows us to easily color coordinate our lights to your theme. We can even slowly change the colors throughout the evening. That's not possible with traditional par can lighting. Also, LED lights don't get hot, and that's an important safety feature - unlike traditional par can lights.
---
Dance floor lighting - FREE when booking DJ services
Dance floor lighting is always included when booking our DJ services. It adds a fun atmosphere to the dance floor and gets the party moving! Looking for dance club lighting? No problem. Want something more subdued? We've got you covered. We will use the just the right amount to make the dance floor fun!
Want to go that extra step? Request our INTELLIGENT LIGHTING package that includes the high-tech effects that will give your event that extra edge and night club environment.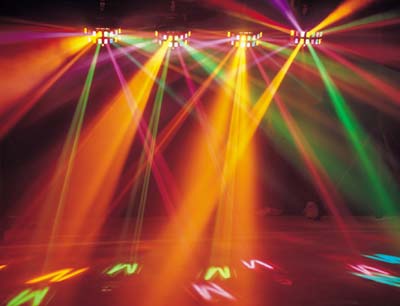 ---
Room uplighting and wash lighting
Interested in transforming your event space into a work of art? Uplighting and wash lighting are the way to go! The options available are limitless, and can really make the difference between, "that looks nice" and, "WOW! That's breathtaking!" We can color coordinate with your theme, or develop some fresh ideas.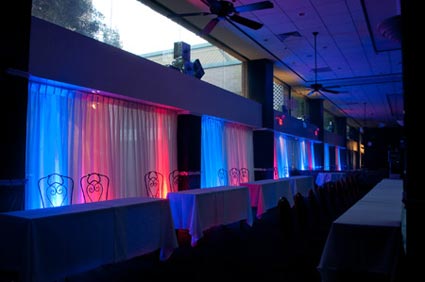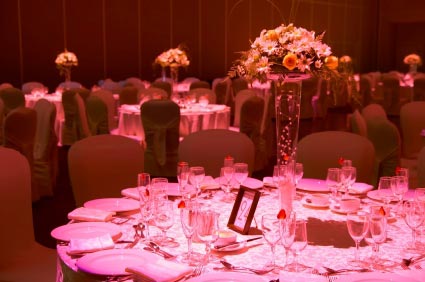 ---
There is nothing more personal than seeing your name in lights. A personalized "monogram gobo" with your name or initials adds that special touch of class, and is a great way to get some really great photos!