Here's what our clients are saying about EES!

---
From Jill (owner of Roses Run) - Wedding Reception
"I can't thank Scott enough for the superb job he did at my wedding! As the owner/manager of Roses Run Country Club, I see DJs here almost every week. And when it came time to plan my own wedding, I knew I wanted to use Scott. His attention to every little detail and the way he takes control of all the coordination allowed my husband and I the freedom to enjoy the day and not have to worry about anything. His professionalism is unmatched, and yet he's still fun and keeps the guests moving all night long. I still receive compliments from family and friends about the wonderful job he did! He truly is one of the best DJs around, and I highly recommend him!"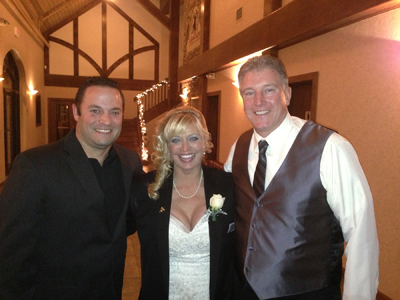 DJ Scott Stover with the happy couple
---
From Nicole & Michael - Wedding Reception
"My husband and I couldn't be more happy with our decision to use Event Entertainment Services. We have gotten so many compliments on the variety of music Scott played. He was professional yet fun and was able to keep the night on track! The photo booth was a huge hit as well. People loved it! And we also were given a scrapbook at the end of the night of a copy of all the photos people took so we could see all of the fun they had. Both the DJ services and the photo booth were above what we expected. Thanks Scott to you and your team!"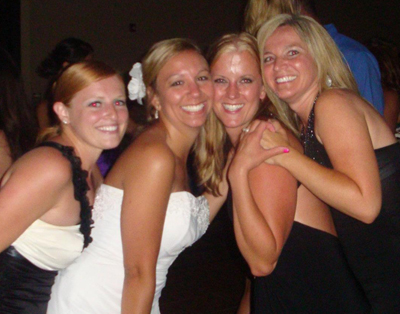 Bride Nicole and friends
---
From Tom & Lynn - Wedding Reception
"Scott did an incredible job to make our memorable day even more special. He cut through the confusion and handled every detail, leaving us to enjoy a wonderful evening without any worries or concerns. Even our guests remarked about the professionalism and attention to detail exhibited by the people at EES. Thanks for a perfect reception!"

---
From Donald & Liz - Wedding Reception
"Thank you so much for the photo booth at our reception, so many photos of every one that Elizabeth and I will cherish forever. P.S you guys rock!" -Donald
"The photo booth was amazing, a huge hit really. I have hundreds of pictures in the scrap book that you made us. I will cherish these memories. And I plan to have this at another event very soon. Thank you guys so much! This was the BEST idea ever, i LOVE our book. You guys are amazing!!!!!!" -Liz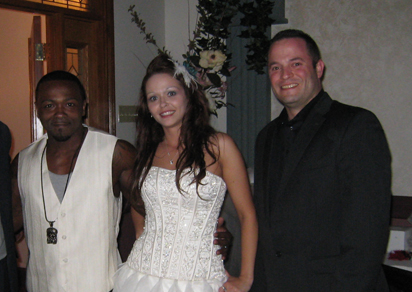 Donald & Liz with DJ Scott Stover
---
From Candy - Corporate Holiday Event
"Scott was amazing! He played a great selection of music that kept everyone moving all night long! Everyone had a wonderful time at the holiday party! Thank you! And the photo booth was the best idea! We will use you for ALL our parties!"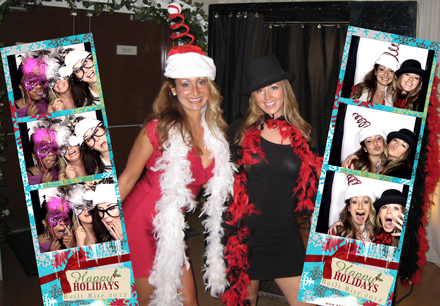 Candy & Angelina strike a pose (c) and sample photo strips from the party (l) (r)
---
From Dana - Theater Group Holiday Party
"Scott is my absolute favorite DJ and karaoke host! A local theater group I'm a part of hired him to host karaoke for the annual holiday party. Not only did he do a super job hosting, but he went above and beyond and provided us with a digital list of all his holiday songs and artists. It was a great time and nobody left early! As a regular at one of his karaoke shows, I have always appreciated his professionalism. His sound system is great and he has a good ear for maintaining the right volume balance. We could always hear the singers, but we could also keep a conversation going at the table too without having to yell at one another. He is always friendly, remembers his regulars, and treats them well. I would hire him for any event where I needed a DJ or karaoke host! "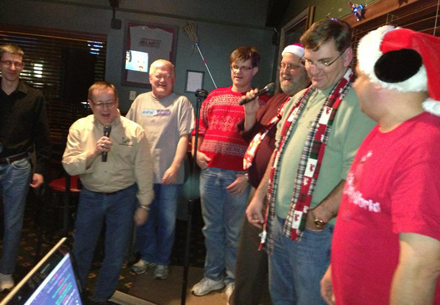 "The 12 Pains of Christmas" like you've never heard before.
---
From Jennifer and Jason - Wedding Reception
"The Photobooth was a big hit at our wedding. All of our guests had so much fun with it! At the end of the night, our album was put together and ready to take home. We were so glad we decided to do it, because we ended up being so busy during our wedding we didn't have a chance to take pictures with everyone. Because we had the Photobooth, we have fun pictures of all of our guests!"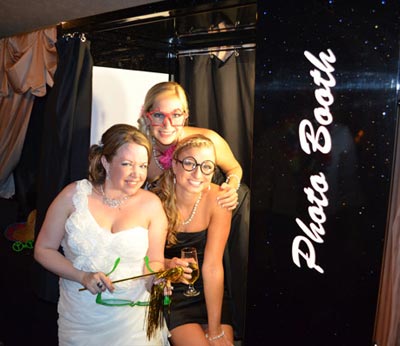 The happy bride Jennifer poses with friends inside the photo booth.
---
From Humane Society of Greater Akron - Gala Fundraiser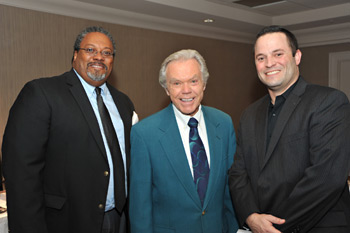 Former NFL player David Price, Dick Goddard and DJ Scott Stover
---
From Holly & Darren - Wedding Reception
"It was amazing and everyone had an awesome time using the photo booth. Definitely an added bonus to the reception. We got in a took our first pictures as husband and wife. It was cool that the photo strips were customized for us too!"
From Laura, sister of the bride
"My sister's wedding was the talk of the town. Everyone's favorite thing was the photo booth. My grandpa, cousin, and her newborn baby got inside to snap some pics. They got to keep a strip of pictures and give one to my sister for her wedding album. It was easy to operate and so fun to see everyone participate. I would highly recommend the photo booth."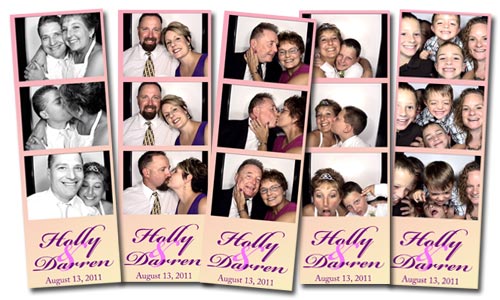 Photobooth samples from Holly & Darren's reception
---
From Jeff & Kayla - Photo Booth (a gift from us for Jeff serving our country)
"Thank you so much for the photo booth. It means a lot to Jeff and I, we greatly appreciate it! It made our special day wonderful, just amazing! Once again, thank you very much for your wonderful gift. You're the best!!!"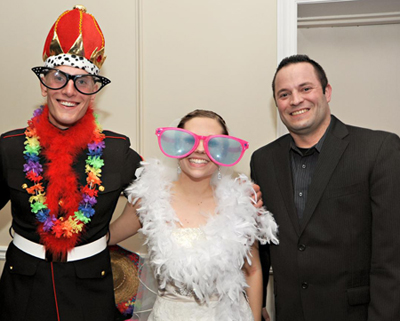 Jeff and Kayla with DJ Scott Stover
---
From Craig and Mindi - Wedding Reception
"We were extremely happy with how you handled all of our music. You did an excellent job, and we were very pleased with how you put everything together. Thank you so much for making that portion of the evening so fun and memorable. It was exactly what we wanted, and I would recommend you to anyone! Thank you again!"
---